Jun 1, 2020

North Carolina farmers connected to consumers with 'Still Growing'

As the COVID-19 pandemic continues to disrupt our food supply chain, farmers in North Carolina are finding new ways to reach consumers looking for fresh local produce and food for their families. In Lee County, Extension Director Bill Stone says he and his team have been working hard to make it easier for farmers and consumers to connect.

"With the situation and people being more concerned about where their food is coming from, we felt like now was the perfect time to bring people's focus back to what's right around them and what kind of products they can get from farms in their area. That's where we got the idea for our video series 'Still Growing,'" Stone says.

The title for the project came from discussions about how essential – and resilient – agriculture is. Stone says food production doesn't stop and people don't stop eating. He adds that the video project is another way to show people where their food comes from.

"Food doesn't magically appear on your dining room table," Stone says. "Even during a pandemic, crops need to be tended and animals need to be cared for." He says farmers work hard every day to make sure folks have the food they need to feed their families.

"As we're not able to find certain foods or products that we might be accustomed to at the grocery store, now's a great time to look locally and see where those products – meat, eggs, fresh produce and other short supply items – can be found closer to home."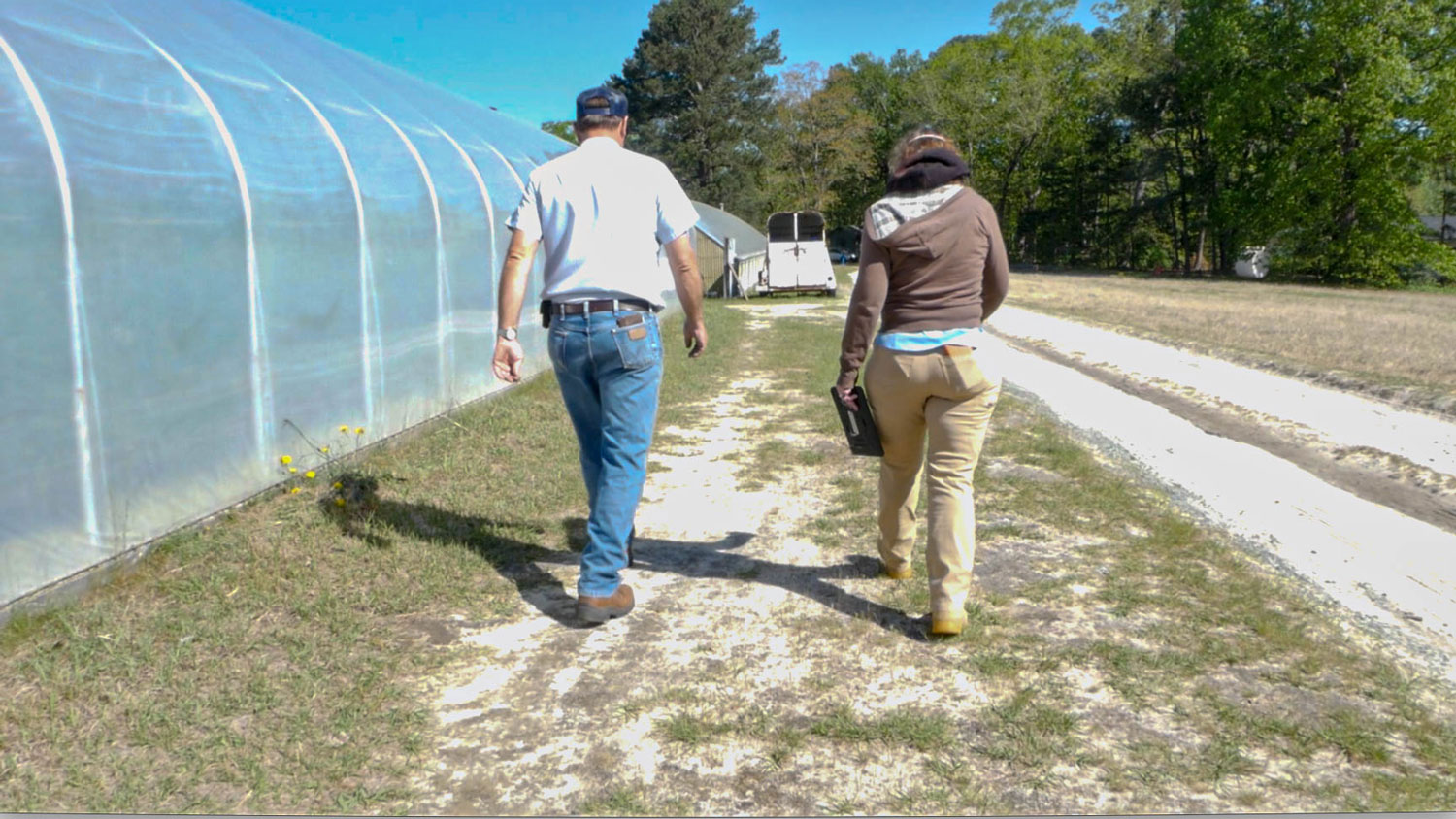 The Lee County Extension team created five videos as part of their "Still Growing" series. The videos were published weekly.
Stone and other Extension agents also want to use the video series as a way to showcase the diversity of agriculture that's grown and produced in North Carolina.
"When you think of the demographics of North Carolina, there's more and more non-natives moving to and living here. Those folks may not realize the variety of crops and products grown in our state. We have seafood by the coast, Christmas trees in the mountains and pork, strawberries, blueberries and everything in between. It's just an amazing array of products in our state."
Stone and his team created five videos that they shared on social media and YouTube. In addition to an introductory video, each episode focuses on a particular topic, such as strawberries, ornamentals, produce and the Visit NC Farms app.
The app has become an important tool for connecting consumers with more local options during COVID-19. Stone says push notifications have been very active as many farms and nurseries have moved to online ordering and delivery services. Each video also includes supplemental information like healthy recipes for local foods.
Stone says the project would not have been possible or as successful without the help of North Carolina State University students MaKayla Gross and Callie Steger.
Gross, a second-year master's student in the Department of Crop and Soil Sciences, is part of  researcher Rachel Vann's soybean Extension team. She has been looking at the winter crop effect on soybean production. Gross has also been serving as the Visit NC Farms app administrator for Lee County.
"The Lee County Extension team invited Callie and me to a meeting a couple months ago where they had the idea for this five-part segment series and they wanted us to be a part of it," Gross explains.
Steger, an incoming NC State senior in the Department of Crop and Soil Sciences, previously worked with agents in Lee County for a different video project, "Reshaping the Landscape."
"That project showcased women in agriculture and that's how I got to know Bill and the team, and that's how I got involved with this new video series," Steger explains.
Steger was able to harness her creativity on the videos and scripts. Gross assisted with editing and ideas for future topics.
"We're really trying to tell the farmer's story with this project and trying to emphasize the work that's put into growing the food while also bringing awareness to the fact that farmers are still working in this time of COVID-19," Steger says.
"I think it's super-important to tell a farmer's story and to make that connection between these families that grow this food and the consumer that buys it, takes it home to their family and consumes it. People are looking for more local food and they want to support small businesses," Gross adds.
Their goal is to help more people become aware of locally produced food. So far the response has been strong.
"When we released our strawberry video, the North Carolina Strawberry Association shared it. It was really cool. It reached a whole other group of people," Gross says.
"When putting the videos together, we really tried to focus on a more generalized idea. We're still focused on North Carolina agriculture, but not so much on Lee County," Steger adds. "A lot of groups that we haven't even reached out to have picked up the videos on their own and shared them. It's really great to see just how many people are sharing from different areas."
Stone says he is proud of the work Gross and Steger have done on the project.
"Callie and MaKayla are absolutely incredible. I'm so proud of both of them and honored to be able to work with young folks of that caliber. Both are amazing and extremely talented and passionate about agriculture and the future of agriculture in our state," he says.
"Extension has always been explained to me as a bridge between producers and consumers," says Steger. "It plays an important role in getting information out to the farmers from the universities. Extension is important for helping connect producers to consumers through resources and support and that's why it's important to me."
– 
Photo: One of the video episodes focused on strawberries. Photos: North Carolina State University