Aug 2, 2011

Vegetable production and pest management

Two-spotted Spider Mite in Tomatoes

Mike Roegge recently reported twospotted spider mite infestations that required treatment in tomatoes near Quincy. Hot, dry weather may trigger similar problems in many other fields as well. Miticides that are registered and effective against twospotted spider mites in tomatoes include Acramite, Agri-mek, Epi-mek, and Oberon. For listings of miticides registered on additional vegetable crops, see the 2011 Midwest Vegetable Production Guide.

Aphids in Pumpkins

Another pest problem that's starting to show up is aphids in pumpkins. Where aphids are numerous on leaves or fruit of cucurbits and the infestation includes winged adults and wingless forms as well, the culprit is almost always cotton-melon aphid, Aphis gossypii. Later in the summer as vines dry down and the only succulent plant parts in the field are the fruits, thousands of aphids can be found on a single pumpkin. Controlling aphids to prevent colony buildups that result in live insects on fruit at harvest (and a cosmetic or contaminant issue for shipping and sales) can be necessary when this occurs.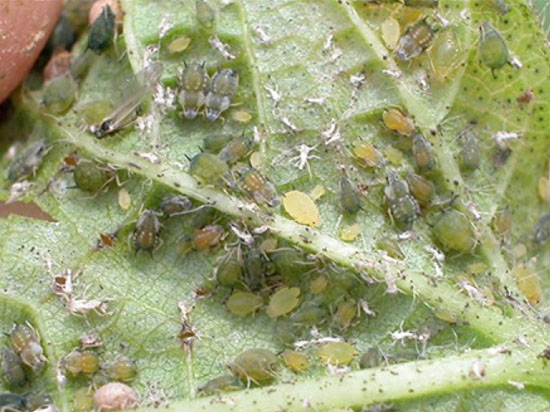 Cotton-melon aphid, Aphis gossypii (Univ. of Tennessee)
Under the "Aphids and Leafhoppers" heading of 2011 Midwest Vegetable Production Guide, there are lots of insecticides listed, but several carry the note "leafhoppers only," and others are labeled for one or two but not all of the vine crops covered in that chapter. For pumpkins …
Insecticides that are primarily aphicides and that have at least some locally systemic activity for greater control where complete coverage is difficult are Actara and Fulfill. Where aphids are THE target for sprays, choose one of these specific aphicides. Preharvest intervals (PHIs) are zero days for Actara and Fulfill on pumpkins.
Older products that carry labels against aphids and are fairly effective IF thorough coverage is possible include Endosulfan (2-day PHI), Lannate (1- to 3-day PHI), and Malathion (3-day PHI).
Organic growers may use M-Pede or other insecticidal soaps … they are fairly effective against aphids that are contacted directly by sprays.
Pyrethroids generally are not good aphicides, and this means that Baythroid, Capture, Danitol, and Pounce (and generic versions of all of these) usually do not provide adequate control of aphids in pumpkins. They do, however, kill common kill common predators and parasites of aphids, and as a result, they may trigger greater outbreaks.
By Rick Weinzierl, Entomologist, University of Illinois Extension