Jan 15, 2020

Ag groups support Phase One China trade deal

The Phase One trade agreement between China and the U.S. was realized Jan. 15 during a formal White House signing ceremony with President Trump and China's lead trade negotiator, Vice Premier Liu He.

Upwards of 200 guests were in attendance for the signing.

The deal, reached in December, reportedly calls for China to buy $40 billion to $50 billion worth of U.S. agricultural products and a total of $200 billion of U.S. goods annually, over the next two years.

According to Trump administration trade officials, the deal is expected to hold China accountable with a "strong enforcement mechanism," allowing the Office of the U.S. Trade Representative (USTR) to resolve any trade disputes within 90 days and take a "proportionate response" if China is not honoring its commitments.

Under terms of the agreement, the U.S. will maintain the current 25% tariffs on $250 billion of Chinese imports and reduce tariffs on a separate $120 billion of Chinese imports from 15% to 7.5%. The U.S. also did not impose tariffs on $160 billion of Chinese goods imports that were scheduled for Dec. 15, 2019.

Rosa Wang, a Shanghai-based analyst at agricultural research firm JCI China, told the South China Morning Post on Jan. 14 that she was "quite confident" that China could meet President Trump's demand to buy at least $80 billion of farm goods over two years.

Doing so, however, would require the Chinese government to either reduce tariffs or issue waivers to make sure private buyers join state buyers in importing American farm products, she said.

Wang forecast that China could buy $18.6 billion worth of soybeans, which dwarfs the next highest commodities, nuts and fruits, frozen pork, sorghum, distiller's dried grains with solubles – an ethanol by-product used in animal feed – cotton, corn, wheat and poultry.

While the Phase One agreement is good news for U.S. farmers, American Farm Bureau Federation (AFBF) Economist Veronica Nigh said questions remain on how China will meet agricultural purchase obligations called for under the newly inked agreement.

"Given the fact that the record for U.S. ag exports to China was about $26 billion back in 2012, this large $40 billion to $50 billion figure has caused many to wonder where that additional 14 to 24 billion dollars in U.S. ag products would come from each year," Nigh said.

"Chinese officials have repeatedly said that the purchases will be market-based, and a lot of analysts have interpreted that to mean that the Chinese government won't necessarily be directing purchases, but rather that the purchases will be made on their merit," she continued. "That means that in order to sell more U.S. products, the U.S. is going to have to win market share away from other competitors."

In a statement following the signing, United States Trade Representative Robert E. Lighthizer said the Phase One trade deal requires structural reforms and other changes to China's economic and trade regime in the areas of intellectual property, technology transfer, agriculture, financial services, and currency and foreign exchange.

According to Lighthizer, the agreement also establishes a strong dispute resolution system that ensures prompt and effective implementation and enforcement with the U.S. agreeing to modify its Section-301 tariff actions.

President Trump has indicated Phase 2 negotiations of the agreement will begin soon.

Secretary Perdue: Deal is a 'bonanza for American agriculture'

U.S. Secretary Perdue issued the following statement after President Donald J. Trump signed the historic Phase One Trade Agreement between the United States and China:

"This agreement is proof President Trump's negotiating strategy is working. While it took China a long time to realize President Trump was serious, this China Phase I Deal is a huge success for the entire economy. This agreement finally levels the playing field for U.S. agriculture and will be a bonanza for America's farmers, ranchers, and producers," said Secretary Perdue. "China has not played by the rules for too long, and I thank President Trump for standing up to their unfair trading practices and for putting America first. We look forward to exporting to Chinese customers hungry for American products."

Click  HERE for audio of Secretary Perdue's statement.

USApple Attends White House signing of U.S-China agreement; commends the administration

The U.S. Apple Association on Jan. 15 commended President Trump for signing the U.S.- China Phase One Trade Agreement. USApple Chairman Jeff Colombini was invited to the White House for the signing.

"It was a real honor for USApple to be invited by the White House to this important ceremony," said Colombini, a third-generation California grower and president of Lodi Farming, Inc. "Today's agreement in which China is committing to large purchases of U.S. agriculture products is positive news. The U.S. apple industry very much wants to supply that market."

The U.S. apple industry finally achieved full access to the Chinese market in 2015. Exports grew to 2.5 million boxes per year making China the apple industry's sixth largest export market. But, according to USApple, continued retaliatory tariffs – now at 50 percent – imposed by China on U.S. apples, on top of already existing 10 percent tariffs, preclude growers from getting back into the China market. This is a substantial concern for the industry as China was an emerging market and one the industry viewed as having significant growth potential. USApple is optimistic that today's signing of the U.S.-China agreement will help pave the way toward removal of the tariffs.

"We congratulate the administration for negotiating and concluding this important agreement and look forward with expectation that China's retaliatory tariffs on our apples will be removed," said USApple President and CEO Jim Bair. "China doesn't grow the new and exciting varieties we do, and we know their consumers want them, so we're ready to roll."

Prior to China's retaliatory tariffs, Chinese importers were buying premium quality U.S. apples at top prices. "We were competing, and winning, with China," continued Bair. "It was a real bright spot on the horizon. We are now hopeful that China will remove its tariffs, allowing U.S. growers to get back to doing what they do best – providing superior quality apples in a volume and range of varieties not available anywhere else."

Western Growers Statement on signing of agreement

Western Growers Board Chairman and Partner at Talley Farms, Ryan Talley, was on hand at the White House today for the signing of the phase one trade agreement with China. Following the conclusion of the ceremony, Chairman Talley issued the following statement:

"Western Growers applauds the significant strides the Trump Administration has made in securing fairer deals for American farmers with key trading partners around the world. On the heels of other recent trade gains with Japan, Mexico, and Canada, the phase one agreement represents constructive progress in the effort to rebalance our nation's trade relationship with China.

"While American farmers have borne the brunt of the trade war with China, with the overall U.S. exports of fruits, vegetables and tree nuts to China declining by double-digits over the past two years, we are optimistic that with the completion of phase one, and the future completion of phase two, U.S. specialty crop farmers will be able to achieve expanded access to, and financial gain from, this valuable Asian market."

Western Growers President & CEO Tom Nassif added the following statement:

"The phase one trade agreement represents welcomed progress with China. We are encouraged by China's commitment to make substantial additional agricultural purchases above historical norms over the next few years, and eagerly anticipate the removal of trade barriers that have restricted exports of U.S. fruits, vegetables and tree nuts to this critical market.

"Additionally, we applaud the Trump Administration for securing resolutions to specific sanitary and phytosanitary (SPS) issues, which will open up the Chinese market to commodities like avocadoes, blueberries, nectarines and potatoes. Looking ahead, we remain committed to supporting the Administration's efforts to secure broader reforms to China's SPS regime, which continues to stymie access for other U.S. specialty crop products.

"As the Administration already has its sights set on starting phase two negotiations, we are pleased that President Trump is delivering on his promise to negotiate better trade deals for American farmers, and look forward to fully realizing the economic benefits of this agreement for the specialty crop industry."

Founded in 1926, Western Growers represents local and regional family farmers growing fresh produce in Arizona, California, Colorado and New Mexico. Our members and their workers provide half the nation's fresh fruits, vegetables and tree nuts, including half of America's fresh organic produce.

National Council of Farmer Cooperatives (NCFC) response

"The signing today of the 'phase one' trade agreement between the United States and the People's Republic of China represents an important step towards helping America's farmers and ranchers expand their exports. A key to this is that the agreement includes a commitment by China to significantly increase in purchases of U.S. agricultural exports and to reform a range of trade practices that impact agriculture. We look forward to working with the Trump Administration in the coming months to ensure that this commitment by China is kept so that American farmers can take advantage of this tremendous opportunity.

NCFC consists of regional and national farmer cooperatives, which are in turn composed of nearly 2,000 local farmer cooperatives across the country. NCFC members also include 26 state and regional councils of cooperatives. Farmer cooperatives allow individual farmers the ability to own and lead organizations that are essential for continued competitiveness in both the domestic and international markets.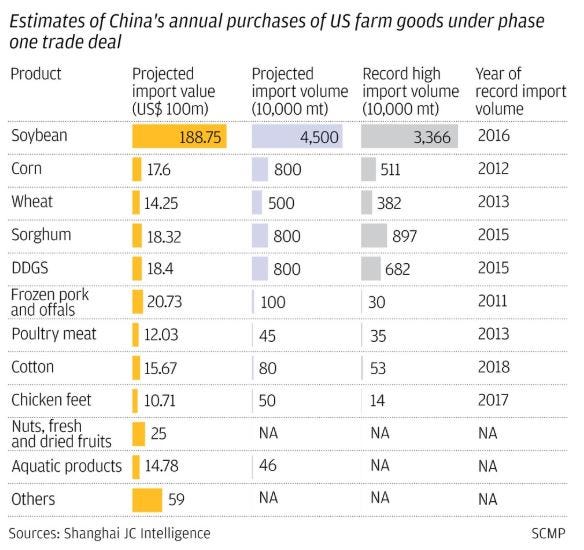 Photo at top: The U.S. – China 'Phase One' trade agreement signed Jan. 15 at the White House reportedly calls for China to buy $40 billion to $50 billion worth of U.S. agricultural products annually over the next two years. Courtesy photo